Brian Gisi Model Behavior Animal Training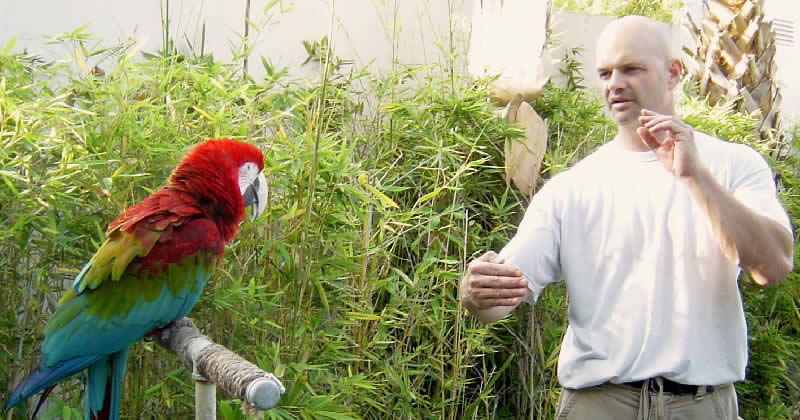 Model Behavior Animal Training and Behavioral Solutions founder, Brian Gisi, earned a Bachelor of Science degree from the University of California, Davis with a focus on Zoological Studies and Animal Behavioral Science. Over the past 20 years, he has applied that education to the field of animal training, working with various domestic and exotic species under a wide variety of circumstances.  

As a result, Brian has amassed a comprehensive understanding of how behavioral conditioning theory applies to animal

learning in practical real life scenarios. He has established himself as an industry expert through his work for organizations such as Marine World Africa USA, Reston Animal Park, Santa Barbara Zoo, Animal Actors LIVE-Universal Studios, and Birds and Animals Unlimited. 

His training techniques apply under all circumstances whether it be for gaining better control over household pets, or conditioning wild, exotic animals to safely interact with people.

Thousands of people have seen and enjoyed the results of Brian's training approach, technique, presentation and teaching skills as he's engaged in the following types of public and private work:

Managing Animal Programs and Training teams for various zoo and animal parks; establishing safety standards and human interaction practices and guidelines.

Providing educational seminars and on-the-job training for professional animal trainers and zoo personnel involved in animal care.

Animal training for live shows, behavioral demonstrations and extended performances in zoos, animal parks and theme parks across the United States.

Animal training for movie and television production.

Animal training for pet owners with both common and severe animal behavior challenges.

Brian brings a true appreciation of animals and their relationship to humans to each training challenge. He provides his clients with greater understanding of animal-human interaction, clarity about how animals learn, and insight on how best to guide and direct them.