Brian Gisi Model Behavior Animal Training


"I really was getting frustrated with some of Bronson's behavior, especially his biting!  I liked the fact that you took the time

to get to know Bronson and see what the issues were and to help me solve them! I thought your service was great!  I would definitely recommend the service to others!  Thank You So Very Much!"   - Jill Westerhoff - Orlando, Florida.      Posted 12/09.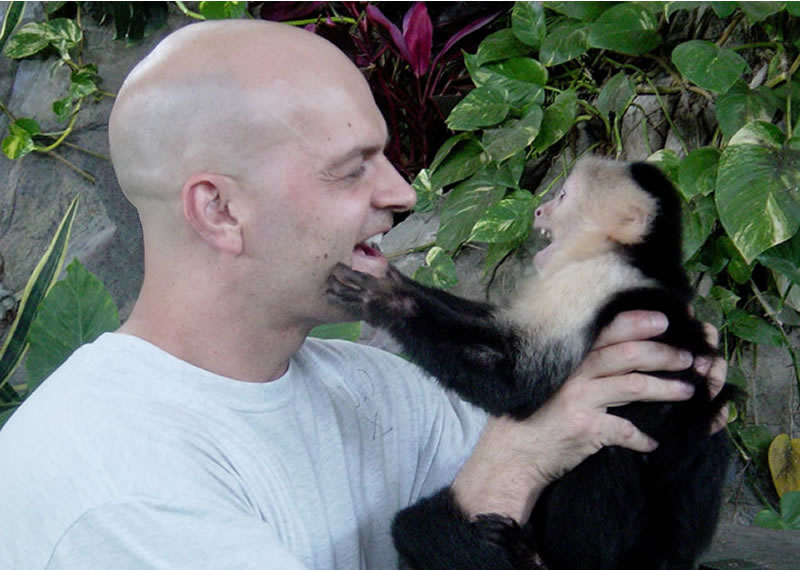 "I have 2 dogs that Brian worked with me on.  We were able to solve several problems in both of the dogs. I like the fact that Brian didn't train my dogs for me, but taught me how to train them . . . I would recommend Brian to anyone that is having a behavior problem . . . If I have any problems crop up that I can not get a handle on, Brian is the first call I make. I know that he will help me with a resolution . . . The behavior of my dogs is 100% better since Brian worked with me, and I get a lot more out of my animals because he taught me how they learn. Thank you for all your help, Brian."

- Jan Hill - Orlando, Florida.     Posted 07/09.

"I wanted to thank you for your excellent training and lessons in helping me with my canine problems.  My house is much  calmer now that I've taken charge as the alpha by following your expert advice.  Having two Jack Russell Terriers, there is always some type of commotion.  But, now I can pick up food bowls or bones when I want to and, best of all, people can come in the door without dogs jumping on them. I appreciate all your help and

will call you again when any new problems occur.  Thank you."

- R. Carlier  - Orlando, Florida.      Posted 07/09.


'Thank you so much for your help in dealing with our 9 year old aggressive Dalmatian . . . you gave us the tools to address the situation in an easy to understand manner.  I'm astonished at how fast things turned around for us . . . I really think she's a happier dog because of it!  I have a much better idea now of how she learns – dogs live in the now . . . I have and will continue

to recommend your service to all I encounter.  You're a lifesaver and we're thrilled with our "new" dog.'

- Kelly Hirsh  - Orlando, Florida.      Posted 12/2009.


"Brian worked with us together to redirect and change the undesirable behaviors of our dogs . . . Once training began, Brian explained

the triggers of the undesirable behaviors, modeled how to change that behavior, and then coached us through the steps.  We learned

to control our dogs' behaviors through reinforcement, repetition, and understanding of the how and why.  We have a much better understanding of how our dogs learn . . . This was done with repetition and patience. We never felt hurried or pressured. We were included in all steps of changing the behaviors.   We never felt  that we were going through a predetermined agenda . . . the agenda  Brian designed for us was creative, and met our needs in our environment.  Brian displayed excellent communication with both us and our dogs. Brian was consistently on time, professional, and explained the behaviors in a way we could understand. We are amazed

that what was once chaos and stress is now  a non-issue."    - The Collette Family  - Orlando, Florida     Posted 01/2010.

"Brian, I want to thank you again for the fabulous job you did in training my babies.  They were just so unruly and uncontrollable when it came to barking and jumping when someone came in the house, chasing the cat ,and barking at other dogs/cats when on a walk.  Now it is a pleasure to open the door when someone comes to visit and know they will sit and not bark and jump. It is so nice to take them on a walk and have them listen to my commands and not have them "walking me" like they use to. I would still be pulling my hair out if I had not had the good fortune to come in contact with you and your excellent animal training skills.  God has truly given you a gift in working with animals.  Again, thanks so much Brian.  Moose and Bruiser thank you too!"   - Michelle Hage  - Orlando, Florida.      Posted  2/2010.


"Brian has helped us gain control over the aggression and leash problems exhibited by our recently adopted pit-bull.  She was two when we adopted her from the SPCA and had not been trained or socialized.  He gave us the tools and knowledge to help us become good leaders for Riley.  Working with Brian made us realize we didn't know how to train our new dog.  We've always had dogs but didn't know what to do with behavioral issues.  Since working with Brian, our dog Riley has become a stable part of our family that we are happy to have.  She is a new dog!  In providing Riley with a controlled, structured environment, we now have a much a happier and more obedient dog.  She looks to us to make decisions for her instead of her making her own decisions.  I would absolutely recommend training with


"My dog is strong willed, and I definitely understand that it is essential to establish  control  in order to change her behavior. Learning to solve my dog's problems through  the animal behaviorist perspective was most helpful.  It not only helped me to understand how to solve my dog's problems, but through that method, I gained more confidence in myself and in my ability to solve any future issues which I might have with my dog.  One can learn techniques to improve a dog's behavior; but for me, it was most enlightening to understand the keys to her behavior.  That makes all the difference! I also appreciate you working with me in what-ever environment best worked to solve my dog's problems; i.e. the dog park, a pet store, a friend's home or my home."   - Debbie Halye  - Orlando, Florida.      Posted  6/22/2010.



"We had a great time with Brian in the time that he spent teaching us how to have a good dog and, of course, how to be better dog owners. He addressed all of our pets issues and gave us the framework to continue the training and working with Reese.

Her aggression and overall basic command control is fantastic now!  We are so pleased with the job Brian did. I have found no other animal trainer that can give you the results we have received  . . ."  - The Harrison Family - Orlando, Florida.      Posted 05/09.




"I was referred to Brian at Model Behavior by a very enthusiastic and satisfied friend, so I

had some expectations when I contacted him . . . and I wasn't disappointed!  I am so happy

I made the call. Brian was terrific. He was open and friendly and really knows his stuff. My dogs responded to him immediately, and he gave me the tools to work through every behavior issue I had. It was a terrific experience and gave me great insight into my dogs and how to interact with them."

- Jill Blackton - Orlando, Florida.      Posted 07/2010.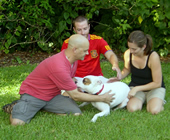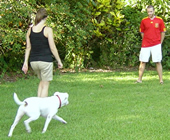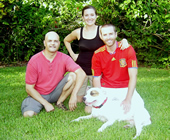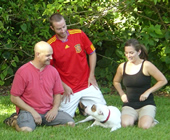 Brian for anyone who owns a pet.  We look forward to working with Brian again in the future."

- Lindsay Wheeler & Scott McCauley  - Orlando, Florida.      Posted  4/27/2010.

"Gabby is a 2 year old Goffin, the smallest of the cockatoos.  I hated trying to take Gabby out of her cage as she would do her best to attack me. She would bite us until we bled! 

I was scared of her and really wanted her to go to another home.  I can honestly tell you that we were going to give Gabby up for adoption and that Brian was our last hope!  Brian taught us how to handle her.  He empowered us to understand how birds think and that

was a turning point in our training.  We now know what Gabby's "triggers" are.  Best of all, WE were the ones handling Gabby, and Brian was guiding us instead of the other way around.  That was empowering!  I am grateful to Brian Gisi and Model Behavior. His patience and understanding gave us the tools to turn Gabby around to turn Gabby around


to make her a more social and friendly bird. She is now a true member of our family, full of fun and silliness.

- Flory Kahn  - Orlando, Florida.      Posted  7/25/2010.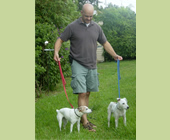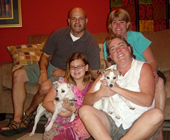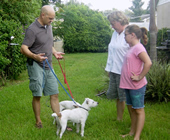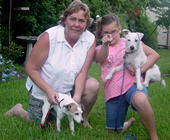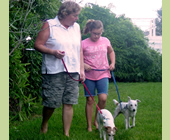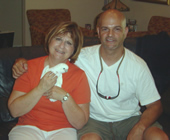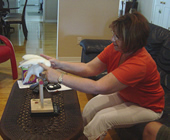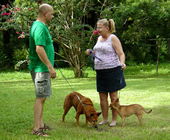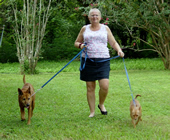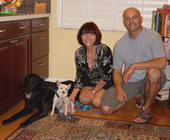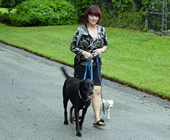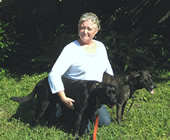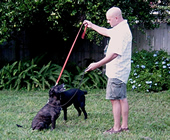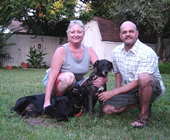 "I was not sure if we would be able to keep Lily in the future, when we have children, because of her behavior. She was pretty 'mouthy' towards us and most people.  She would constantly try to seek attention by jumping up and biting your hands.  I thought that maybe Lily was just not very smart and that's why she was acting out of control; I used to try the same things over and over and get frustrated with getting no results.  I really loved that Brian got to know what made Lily unique and customized the sessions towards her personality/behavior and our expectations. I soon realized how smart and trainable she was with the correct technique.  Now that I am getting results, I feel as though I can be in control of any situation with her if I  put in the time and effort with these simple techniques.  This service was worth every penny;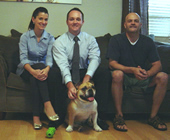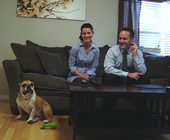 the training sessions have strengthened our relationship with Lily, made our household much more peaceful, and makes me feel happy about having her in our family forever!     - Micah and Noelle Strader  - Orlando, Florida.      Posted  10/25/2010.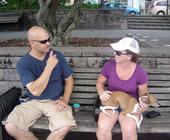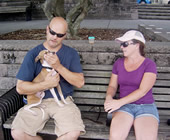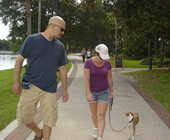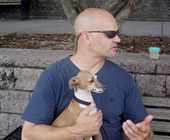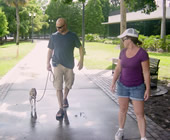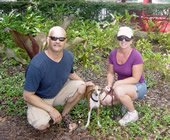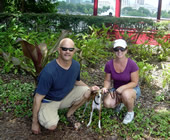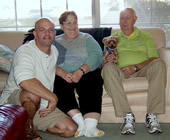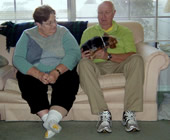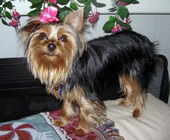 "We learned that animals are a lot like children because they need, and tend to look for, leadership. We learned that consistent and repetitious reinforcement of acceptable behavior was important in creating a better companion dog. Katielyn walks better and shows more patience with visitors. We appreciate Brian's flexibility, patience, and availability whenever

we needed him, including making a trip to the vet office with us. We would definitely use Brian's services in the future and have recommended him to others.

  - Jim and Grace Croft  - Orlando, Florida.      Posted  11/12/2010.

"I chose Brian to help me with my Italian Greyhound, Oliver, because he seemed to react different to Brian than anyone else I had interviewed.  My dog's demeanor instantly changed when Brian came over.  Brian's calm and assertive demeanor seemed to please Oliver.  Prior  to Brian's service, I didn't understand how to get Oliver to do what I needed.  After just a few sessions I felt more confident communicating in a language that my dog understood.  Brian taught me how to create a well balanced dog through positive reinforcement and other techniques. Now that Oliver listens better, I am more comfortable he will stay out of harm's way.  I would highly recommend Brian's services to anyone, especially those with animals   that exhibit mild aggression or other behavioral problems.  Thank you Brian!                                       -  Lisa DiQuollo - Orlando, Florida.      Posted  11/06/2010.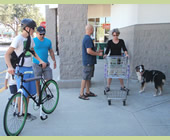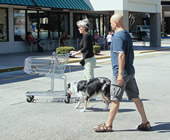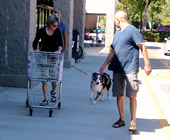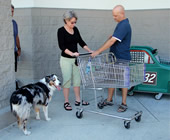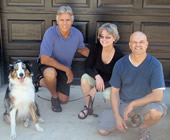 "Much of Storm's (eight month old Australian Shepherd) behavior is fear based. We successfully alleviated his avoidance reactions to bicycles, strangers, shopping carts, and being bathed. Most important, Stacy and I learned techniques that we will use to change other undesirable behaviors. The best demonstration of how important establishing control is in the fact that Storm now looks to us for guidance. Storm has learned there are protocols for situations like leash walking or answering the front door. We learned that without both positive and negative reinforcement your pet cannot be totally successful. Stacy and I have developed a consistent and unified front in communicating with our pets. We liked the instant results we received with your service. We recommend your services to others, and unquestionably see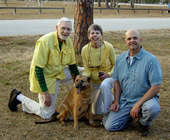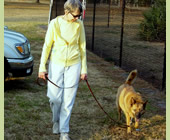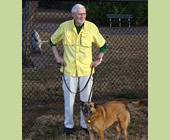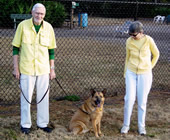 "By the time we sought Brian's help with Babe, our Belgian Malinois/shepherd mix, we had already failed with three other trainers on correcting Babe's lunging at other dogs on our           daily walks. We had lost hope of ever being able to walk without the tension of always being on the look-out for others dogs. Brian showed us how to better control Babe's behavior. He taught us to always be alert to signals Babe's body language was sending. He asked us to take baby steps on the way to establishing limits. It was our behavior that improved the most. His guidance gave us the confidence to consistently follow through with the training between lessons. Encountering other dogs on our walks now no longer presents a serious problem. Brian's service included visits to the local dog park. Initially we did not have much hope for 

the benefit of this exercise but were astounded at the eventual results. Babe actually learned to meet other dogs the correct dog way rather than always lunging. As I write this I think of so many more positive things to say about Brian's service, but suffice it to say that we were more than satisfied with his service and would not hesitate to call on him again if need be.

  - Jim and Helen Kershaw - Melbourne, Florida.      Posted  1/18/2011


". . .Without a confident leader, Denny will take over because that is what comes naturally       to him.  I liked that you gave us the tools we will need to implement our new rules, and you   

taught us how to do this on our own . . .We have made great progress teaching Denny how      to appropriately greet and socialize with other dogs. Since I have been implementing rules

that help me establish control, I see a more confident, happy and obedient dog. He is a 

different dog from when we started, and that is valuable to me. I have never had a better dog trainer.  You were patient, knowledgeable, caring, and available! We will be continuing with your services in order to move above and beyond what we have already accomplished.

- Amber Leino and Dustin Gregg - Orlando, Florida.     Posted 04/07/2011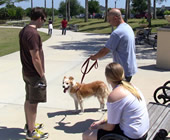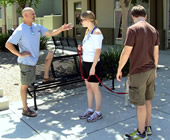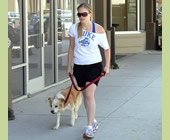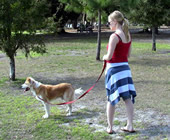 "I have accompanied Brian Gisi on numerous animal consulting and training jobs over the course of several months. It seems as if there is no behavioral problem that Brian has not encountered while working with such a wide variety of animals over the years. I know that I have greatly benefited from tapping into his vast working experience. Assisting him has helped me gain a deeper understanding of the underlying concepts involved in animal behavior modification. Brian always takes the time to discuss with me any difficulties he may be experiencing while shaping specific behavior. In addition, he is always willing to analyze and discuss problems that I am experiencing while training animals. He is always willing to share ideas that guide me through creating conditioning strategies that get me the most desirable results. He is an incredibly knowledgeable trainer, teacher, and mentor for those wanting to pursue careers in the animal training field. I am grateful for his guidance and know that he can help anyone interested in developing their knowledge, skills and abilities in animal training and care.

- Dan McCracken, Disney's Animal Kingdom Behavioral Husbandry and Enrichment Intern - Orlando, Florida.     Posted 04/18/2011

"I absolutely would recommend Model Behavior to others, and already have! I liked that the service was very detailed and tailored to my particular concerns. Through the training, I learned how to set stricter limits as well as when and how to correct her (Ellie's) behavior. I saw a huge improvement in Ellie's interaction with other dogs. I am now able to take her to dog events that I would never have taken her to previously because I did not have much control over her. Having better control of Ellie has strengthened our relationship because I now see her true potential and I know the correct way to train her. Brian's assistance has helped build my confidence and I have more patience with Ellie. I would definitely use his services again in the future!."

- Stephanie Booth  - Orlando, Florida.      Posted  5/2011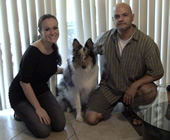 "Brian, a complete stranger to our five dogs, was able to command their attention and control their behavior. He immediately achieved desired results with a few basic techniques. Brian took a great deal of time to explain his philosophy to us and did it in such a way that we were able to clearly understand how the techniques were influencing our dogs' behavior.  We came to understand that our dogs need our direction. Additionally, we learned how proper timing, consistency, reading behavior accurately, staying alert, and remaining calm are all necessary components for successful behavioral outcomes. We can now take a proactive approach instead of a reactive one. We realize that it IS possible to teach all five of our dogs what behavior we expect of them. We definitely recommend Brian and his


"At first I thought this (training experience) was going to be about teaching commands such as "sit", "stay", "roll over", etc. No way, this was much more than that!  Since the moment Brian first knocked on our door, we have forged a stronger relationship with Lucian and Bella by learning how to be more effective leaders.  With Brian's guidance, we have become more persistent and confident . . . We learned how to establish boundaries by clearly defining what is and isn't acceptable. We now recognize that our dogs were (actually) craving leadership and happy to please.  We would recommend Brian to anyone without hesitation, and we look forward to working with him in the future.  His patience and knowledge are extraordinary!"

- The Berio Family  - Orlando, Florida.      Posted  08/2011


techniques to anyone who is feeling hopeless about correcting out of control behavior. We look forward to enhancing our knowledge and skills with additional instruction."   - The Gritton Family  - Ocoee, Florida.      Posted  08/2011

"I would recommend Brian to anyone serious about making favorable changes in the relationship they have with their pets. Brian is fantastic, and he really knows his business!     I especially liked the individual attention and time he spent with me and my dog. Brian showed me true care and concern because he did not treat my problems as just another "cookie cutter" case.  He made sure he understood my concerns and helped me address them. Brian taught me how animals interact and communicate, and he also showed me techniques that are effective in teaching my dog to look to me for guidance and leadership. As a result, Kody definitely improved in following my direction and practicing less aggressive behavior toward other dogs. Now, I definitely feel much more confident that I can handle


interactions with Kody and other dogs. I intend to work more with Brian so that I can continue to improve my ability to  control my dog's behavior."   - Kristie Shaw  - Ocoee, Florida.      Posted  08/2011

ourselves using your services in the future.     - The Thomas Family - Winter Park, Florida.      Posted  1/10/2011.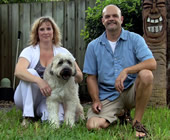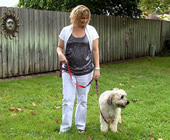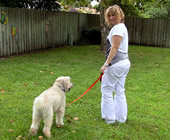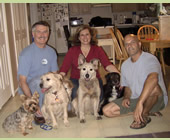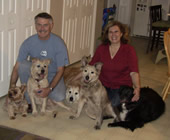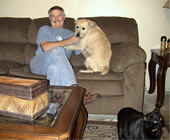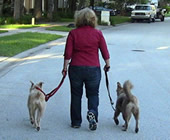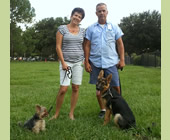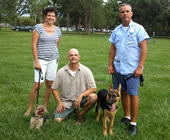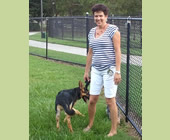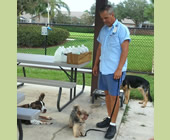 "Our ten year old Border Collie, George, did not walk well on a leash, was not well socialized, and nipped at moving objects - including people! We used to get nervous whenever George came in contact with an unfamiliar person.   We loved the personalized treatment we received from Brian.  He made sure that he understood our goals and expectations about training and tailored the training sessions around those goals. Brian taught us that George would actually feel more secure when he had a more confident leader to follow.  We now recognize that he feels more secure when we are in control; he responds better because we have more self confidence. Now that we have established boundaries for George, he looks to us more for direction on walks and around the house. And, we have


learned to be more relaxed, which has helped George relax. The training sessions we had have really helped us to be able get back to our normal way of life and have our guests come over again. We would definitely recommend Model Behavior to others. In fact, we already have."  - The Brooks Family  - Orlando, Florida.      Posted  10/2011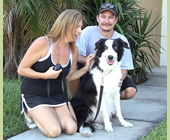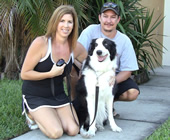 "I never would have believed before meeting and working with Brian that my dog would be where he is today. I had specific ideas that I wanted to work on in order to improve my dog's behavior, but was not sure if they were even achievable. The number one habit I wanted to change was how my dog greeted guests at the door. It was a battle to control his excitement towards anyone that would come over. Brian gave me the tools I needed to deal with this issue; by the third lesson my dog was incredibly responsive and the behavior changed dramatically. Brian taught me that being consistent was crucial to my success. Once I learned what to do, I worked hard on implementing it daily. With Brian's help, Hunter has learned new boundaries. I feel more in control. I guide and direct what is acceptable and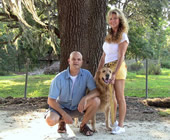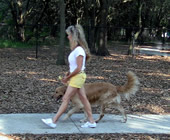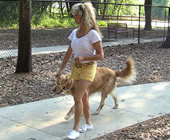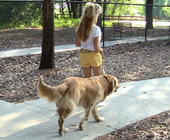 unacceptable. I feel more comfortable in my own home now that I am able to better manage Hunter's behavior. I would highly recommend Model Behavior. I am excited because I feel confident that I now have the support I need to achieve new levels of success with all of my animals in the future. Thank you so much for making a difference in our lives."

- Sue Esposito - Orlando, Florida.   Posted  4/2012

"When Mr. Chompers, our 2 year old English Bulldog, began having aggression issues, our veterinarian told me that if anyone could help it would be animal behavior specialist, Brian Gisi. During our consultation, Brian observed Mr. Chompers' behavior as well as how I reacted to his behavior. Brian explained the problem areas and a course of action to deal with those problems. Having sessions in our home was paramount for me! How better to deal with how a pet and owner relate than to work with them in their day to day environment. Brian customized our classes to focus on our weaknesses. He taught me how to shape Mr. Chomper's behavior and set boundaries for him. As a  result, I now have more confidence and patience when handling Mr. Chompers. I am able to take Mr. Chompers for a walk, to visit a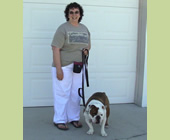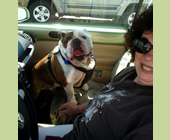 pet store or take him along to lunch at a sidewalk cafe. Mr. Chompers is much more attentive and responsive to me and I am even able to answer the door without having to drag Mr. Chompers away and lock him in a room. He is back to being that "happy go lucky" laid back pooch he was before our problems started. Although our Introductory Plan is over, I am making a "Brian list" that includes teaching new behaviors and tweaking current behaviors. I look forward to working with Brian again in the near future. I have and will continue to encourage others to work with this amazing and gifted animal behavior specialist!"

- Elizabeth Kesserling - Kissimmee, Florida.   Posted  5/2012

"We contacted Model Behavior because our dog, Harvey, demonstrated aggression towards children and we felt an overall lack of control. We tried yelling, various collars, books, and advice from all sorts of "experts".  Our experience with animal "trainers" in the past left us feeling like we were to blame, but left us with few strategies to actually deal with the problem behavior. Brian made it clear that we were ultimately responsible for all of Harvey's behavior, but he also gave us the tools we needed to create a safer environment. Brian's approach was unique because he demonstrated that Harvey didn't really know what was expected of him and that we underestimated some of his more subtle behavior. He taught us how to recognize potential problems before they became a problem, how to reinforce acceptable behavior, and how to deal with situations that involved Harvey and children. Brian helped us understand that continual practice and patience is the key to success. We learned how to set limits for common problems like pawing for attention, getting overexcited when the doorbell rings, and not jumping on guests. We now have a better grasp on how our dog thinks and how to create behavioral boundaries that provide us better control.  We feel less anxious now when guests are over (especially young children) because we are more confident that we can address anything that happens by sticking to the fundamental concepts Brian taught us. We are now able to enjoy Harvey as a loved family member and help our children learn how to raise and enjoy animals. We have learned that having Harvey will be a life-long commitment and that we need to continue to reinforce what we have learned. We definitely recommend Brian and have already done so with some friends and co-workers. He is a great resource and can teach you amazing things about animal behavior. We would definitely use Brian again in the future."

- The Blizzard Family - Windermere, Florida.      Posted 5/2012.


"We always felt strong bonds with our dogs, but this experience has brought us even closer. Our boxer, Norman, always tended to overreact to things that were new or that he did not understand.  Brian showed us how to help Norman face his fears calmly instead of panicking over them.  We learned how to instill confidence in Norman so that he can learn to relax. 

Our German shepherd mix, Mischa, struggled to walk calmly on a leash and demonstrated aggression toward some other dogs. Brian taught us how to curb these problems by redirecting her attention when she is anxious and letting her know what we expect from her before she reacts. After eight years of dreading every walk with Mischa, I now find it an absolute joy to walk her. Brian not only helped us recognize why our approach to solving problems was ineffective, he also demonstrated how to communicate with our dogs through structured rules for behavior. Brian emphasized how important it was to be consistent with our approach and persistent in our expectations.  This all proved most valuable when guests visit our household because our dogs now know what we expect. Brian is extremely knowledgeable, and he was very professional throughout our experience.  He was always very patient, thorough, and focused 100% of his attention on us every session.  Brian's service exceeded our expectations and we plan on continuing to work with him in order to fine tune our skills."

- Joshua and Iris Segal - Orlando, Florida.      Posted 7/2012.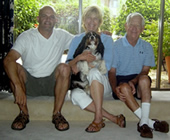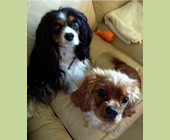 "It was difficult to control Pebbles from jumping on guests that came to the house, and we had trouble maintaining control during our walks. With help from Model Behavior, we have learned how to set boundaries for meeting guests that enter the house, and walk calmly beside us. More importantly, we have reliable rules to follow when she gets off track. We have definitely developed a stronger relationship through the "turning" exercises. Pebbles now looks to me more for direction on our walks. Now our walks are more of a shared experience rather than a chore. Thanks to the instruction I received, I am finally starting to understand my dog's real motivations. I feel better equipped to truly provide her the consistent limits and boundaries she needs. She is more balanced and relaxed. It's been a challeng trying to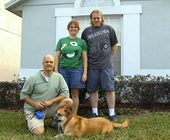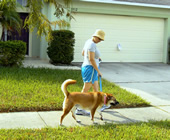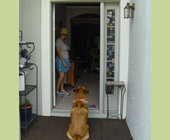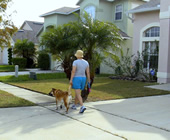 balance correction and reinforcement. However, when I am successful at it, I get exactly what I need from her. Brian explained things thoroughly. I liked the personalized service and the ability to work at home. I would definitely recommend these services to anyone with an animal! I've learned so much; not only how to interact with my dog, but also how to interact with other animals I encounter. I will absolutely use Model Behavior's services again, even if it's just to refresh skills we've already learned." - The Hunsworth Family  - Orlando, Florida.   Posted  11/2012

"We have had several poodles throughout our married life. Over the years, we had worked with other trainers to learn the basics. However, Megan, our seven year old poodle that we adopted at age three, presented new challenges that we struggled to overcome. Her excessive barking was intolerable; so much that we were apprehensive to invite even family guests into our home. In addition, we adopted a six month old poodle, named Sally, who showed significant signs of anxiety in new situations. We employed Model Behavior Animal Training Services to help us understand Megan's barking and Sally's anxiety. Brian taught us that Megan and Sally were both overanxious. He showed us that Megan's barking was simply a symptom of her anxiety and that Sally lacked the encouragement she needed interacting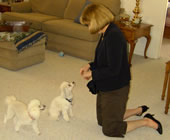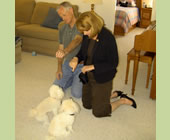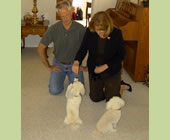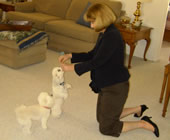 with people in a variety of settings. Brian offered us individualized training strategies based on our dogs' different personalities. We are now more confident in our ability to set boundaries and control their behavior. Brian coached us on how to desensitize both of our dogs to new triggers. In addition, Brian is helping us train a variety of fun behaviors that helps makes our guests' experience with our dogs more interactive and enjoyable. As a result, Megan and Sally demonstrate more discipline and are more comfortable with family and friends. We are also now able to spend more productive time exposing our dogs to different environments. We continue to work with Brian and definitely recommend him to others."

- Charlotte and Pete Henningsen - Orlando, Florida.   Posted  4/2013

"I recently had major back surgery and I was afraid that some of my dog's behavior would cause me difficulty with my recovery. Sam's leash pulling and jumping on other people were a problem. Brian taught me a lot about how to read Sam's behavior and what makes him tick. Brian also taught me that all animals learn through practice and proper reinforcement.

While working with Brian I gained more confidence and I am more optimistic about my future with Sam. I feel I have become a better pet owner because I now know that patience is crucial; Brian demonstrated this himself by being kind and patient with Sam. Brian taught me how to establish control through boundaries, limits, and reinforcement. Brian was excellent! I would recommend him unconditionally, and I would absolutely use Model Behavior services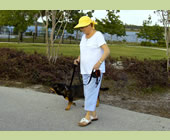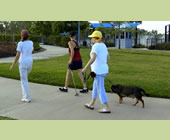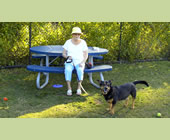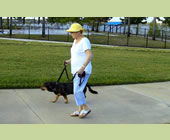 again."  - Joanne Lease - Orlando, Florida.   Posted  5/2013

"We contacted Model Behavior because our two dogs were fighting with each other every time they were in the same room together. It was becoming so severe that we were afraid we would have to remove one of them from our home. Brian demonstrated to us that our lack of leadership was allowing the aggressive behavior to escalate. He showed us that we could strengthen our leadership skills and gain better control by creating more consistent boundaries and by exhibiting more patience. We learned how to consistently reinforce acceptable behavior and redirect unacceptable behavior. Brian specifically emphasized more rules for our daily walks which not only motivated our dogs to pay more attention to our guidance, but also created new opportunities to become a more cohesive group. We now feel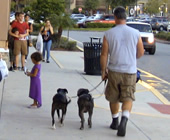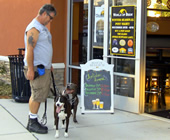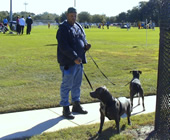 more confident in reading our dogs' behavior and we recognize their strengths and weaknesses. Brian gave us the tools we needed to keep our dogs, and for that we will definitely call him again in the future."

- James and Caren Humphries - Mascotte, Florida.   Posted  6/2014

'I contacted Brian to correct a number of behavioral issues with our four dogs, including rushing the front door. I have worked with other trainers over the years, but Brian taught my family the tools and understanding we need to be better dog owners. We spent most of our time learning techniques for walking and greeting visitors at the door, and there have been significant improvements in a short amount of time. Most importantly, I have become more confident walking two or even three dogs at the same time. The quality of life in my house - for both my family and my dogs - has vastly improved. We will definitely work with Model Behavior in the future. Thank you, Brian!"

- Nissen family - Longwood, Florida      Posted 12/2014


"I contacted Model Behavior because I wanted to certify my dog, Hope, as a therapy dog. I knew it was best to get her started as a young dog, but I didn't know where to start. Working with Model Behavior helped me understand that establishing rules, limits and boundaries wasn't mean or unfair. In fact, I now understand that this paved the way to a more trusting relationship with Hope and has allowed me to expand her world, offer her new adventures, and help her help other people. Hope understands that following me literally leads to fun and new experiences. This has been a game changer! Model Behavior has already helped Hope gain her Canine Good Citizen and Therapy Dogs International titles, and we still work with Brian so that Hope can continue to hone her ability to help others. Brian really helped me gain more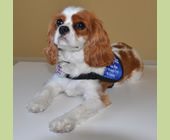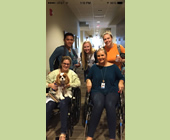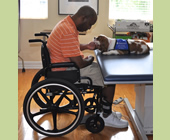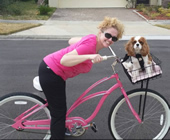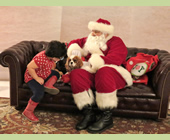 confidence handling Hope in public by emphasizing more patience and consistency. He taught me that people will ALWAYS be an integral variable in Hope's environment and setting her up for success means that I should never be afraid to control how people interact with her. Hope now goes everywhere with me! She seems so secure traveling by car, bus, train, plane or boat. She is calm and relaxed whenever we visit schools, libraries, hospitals, nursing homes, etc. I am grateful to Brian and recommend Model Behavior to anyone that needs help with their dogs"

- Nicole Scheiman - Apopka, Florida.   Posted  6/2015

"I was struggling with my St. Bernard before I contacted Model Behavior Animal Training. Paris didn't walk well on a leash and was demonstrating some aggressive tendencies toward others. She was not following my direction and pretty much ruled the house! All of this generated many other challenges as she grew to weigh 150 lbs. Brian helped me realize that my lack of guidance when she was young resulted in an adult dog that disregarded any kind of leadership. Brian helped me gain the confidence to establish clear behavioral boundaries and proved to me that I simply needed to be more assertive to help Paris gain more confidence in me.These two concepts have empowered me to teach Paris that things work better for her when she follows my lead! I have much better control of Paris now, and I can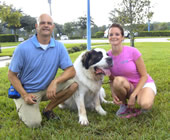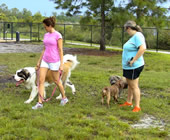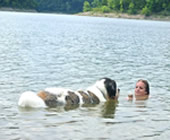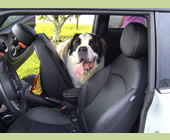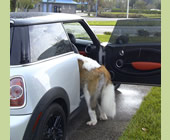 trust her more whenever we are out in public. The training has expanded our world and solidified our relationship. Brian was very down to earth and was always available to support me when I was in doubt; he kept me focusedf on mastering my leadership skills. I would most definitely recommend Model Behavior Animal Training to anyone that wants to reshape their relationship with their dog."

- Melody and Timmy Murray – Orlando, Florida.   Posted  10/2015

"I contacted Model Behavior because one of my dogs, Marley, over reacted to a variety of environmental triggers and he would frequently overpower me to get to them; walking him was a struggle. My other dog, Reesa, showed a lack of confidence and was fearful in new situations. Brian taught me how to communicate with Marley on a level that he could understand. Similarly, Brian taught me that I could best help build Reesa's confidence and trust by establishing clearer rules and boundaries. Although it has taken some time, I am now able to draw more relaxed and calm behavior out of both my dogs under a wider variety of circumstances. Over the years, all of my dogs have been rescues and I have always thought that I could communicate my sympathy for their misfortunes by simply showering them with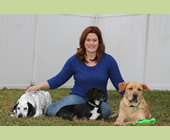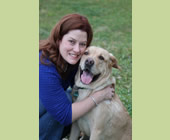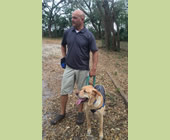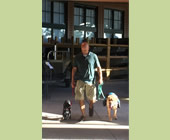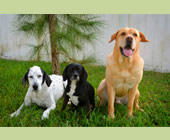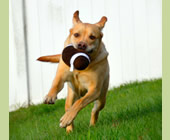 with love. Working with Model Behavior helped me realize that my dogs were less interested in my sympathy and more interested in guidance. My good intentions were actually causing more ambiguity and instability for my dogs. Many of my friends and family thought I was crazy to put the time, money and work into my dogs. However, many of the same people are now shocked at how well my dogs listen and behave. Ultimately, I learned that conditioning strategies can take significant time and consistent repetition. At times I was very discouraged because I would experience glimmers of hope that were followed by epic failures. Brian was there every step of the way to cheer me on when I was having success and when I was ready to throw in the towel. He shared invaluable insight that I will apply for the rest of my life. This has truly been a life-changing experience for me, because I finally feel like I have created a healthy home for my dogs. It's not just where they now live, but it's a place where they thrive!"

- Marcie Lushen - Clermont, Florida.   Posted  4/2016

"I originally contacted Model Behavior because I struggled getting my dog, Isabella, into a carrier. This had been a problem since she was a puppy. I foresaw more traveling in my future, so I needed to solve this problem. Brian was able to get her going in her carrier from the very first visit! However, he explained that she needed to learn how to be calm in the carrier and that it would take some time. Brian also helped me with other things that I just helplessly accepted like incessant barking and over excitement while I prepared her food. Ever since working with Brian, I now notice Isabella follow my directions more frequently than she challenges them. I learned how to get her attention with sound and redirect her behavior with movement. Through this experience I also realized how much of my own behavior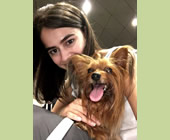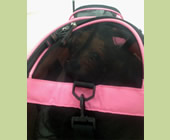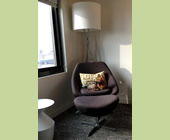 influenced Isabella's behavior. This has helped me become more persistent in getting Isabella to meet my expectations, instead of always giving in to her. I enjoy being able to love on my dog when she is behaving, but I am now not afraid to be more insistent when she is not. I would absolutely continue the training and I highly recommend it for those looking to improve their dog's behaviors."

- Atheline Figueroa - Winter Garden, Florida.   Posted  4/2016